The latest independent data from Thinkbroadband has revealed that 50% of homes across the United Kingdom (c. 15.365 million) now have access to a gigabit-capable Fibre-to-the-Premises (FTTP) network
FTTP (Fibre-to-the-premises) is being rolled-out across whole exchange areas on a quarterly notification cycle. When the FTTP coverage reaches 75% of all premises in an exchange area, a stop-sell on FTTC services will apply. The plan is to cover 25 million premises with FTTP by December 2026.
So, how much progress has been made to date? Well, to use Oxfordshire as an example, Openreach has announced that full-fibre (FTTP) is now available in over 55,000 homes and businesses in Oxfordshire. This equates to around 36.6% of premises so there's still a way to go yet.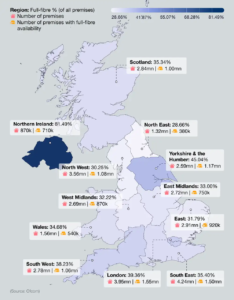 Whilst the data is a few months old, this image gives you a good idea of where your region is sitting in the progress charts.
Not surprisingly, London has the most non-domestic premises with full fibre availability (70,785), followed by the South East of England (64,815). Both of these figures represent just over a quarter (27%) of their respective total business premises that have access to full fibre broadband.
In 2022, two of our local regions featured in the progress charts, one more positively that the other! Whilst MK was one of the Local Authorities with the highest % of full fibre availability, Oxford was one of the lowest.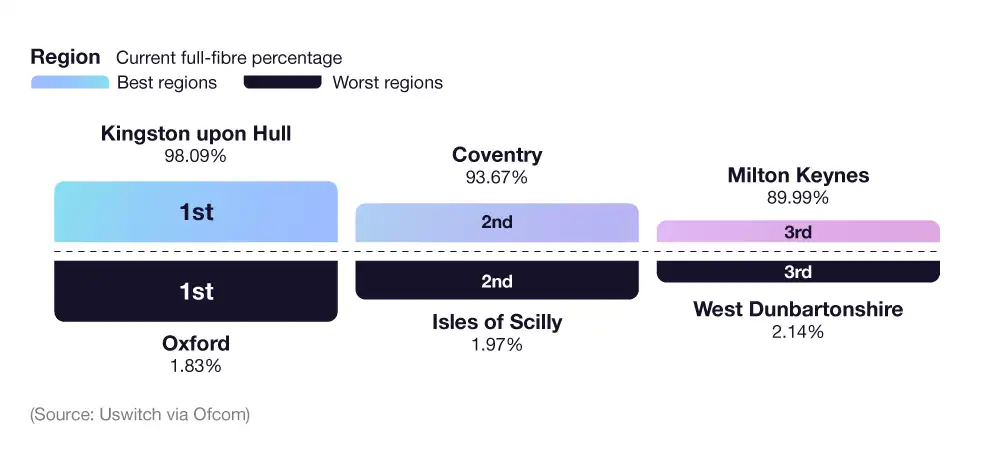 If your business does not yet have access to FTTP and you want to get ahead of the game, our SoGEA Broadband is a great interim solution that still offers some cost savings and future-proofs connectivity in rural and urban areas. Talk to our team on 01865 367111 for more details.