As part of our new Business Energy provision, it's our job to keep our customers and visitors up to date with the current energy market and news. Here are the latest key trends and pricing updates.
Overview
Energy prices continue to soar, with 13-year highs being seen in the wholesale market. A global increase in the demand for gas has seen a significant risk premium added to energy contracts this year. Pipeline disruptions in Russia have added to the European demand for gas, with supplies tightening due to gas being taken out of storage. Heavier reliance is on the LNG shipments however these are being sold to the "highest bidder" and as Asia are paying more they are attracting the much-needed shipments away from Europe.
Escalating cases of COVID-19 due to the Delta variant threatens global energy demand growth, as countries renew travel restrictions. Crude oil prices fell to their lowest level since May after China, the world's top crude importer, imposed more travel restrictions to fight what it sees as the worst outbreak since the original viral outbreak in Wuhan. Despite increasing cases the UK wholesale gas prices are now over 200% higher than this time last year. Wind generation is also predicted to be lower and as 40% of the UK's electricity is generated by gas, electricity prices are being impacted as well. Contract prices are expected to continue this increase throughout 2021, as current projections also are showing that Europe will be short of LNG this winter.
Gas and Electricity
Gas and electricity markets have both been very bullish, due to supply levels depleting and risk premiums being added to contracts. Asian demand for gas has continued to increase, which has seen LNG prices increase and more shipments going to the East instead of Europe. Gas production has also been limited further as fires were recorded at a Russian processing facility.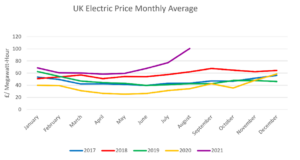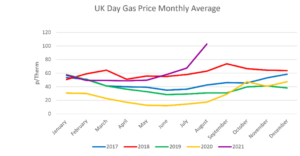 For a full copy of our energy pricing report please contact us at info@ghmcomms.com.