We caught up with GHM Director, Aidan McManus to get his thoughts on what the top priorities are for businesses in 2023 (and find out what he's up to behind the scenes!).
What's the top priority for businesses when it comes to telephony right now?
Making sure they have the right tools and solutions work as efficiently as possible in today's hybrid working world. And giving customers the flexibility to contact your business in the most convenient manner for them – what we call a multi media experience.
Another big one that is sneaking up on us all is the 2025 switch off Analogue lines. This will affect every household and business in Britain. If you haven't spoken to one of our team about it, please do as you will need to plan for this.
What's the top priority for businesses when it comes to IT Support right now?
Security, security, security. I was at an event last month where an ethical hacker discussed phishing threats. My one major take away was that even if you deploy the most advanced measures, if your staff don't know what to look for the door is always open. End user training is a core part of our cybersecurity services for IT customers.
What are the 3 most common questions from customers at the moment?
That's a really hard one as no two days are ever the same and the questions I am asked a vary wildly, but how to improve connectivity and speed is always popular.
Where does GHM add most value for customers?
We pride ourselves in understanding our customers needs, getting to know their businesses and offering products and services that help them run their businesses more efficiently. From a personal standpoint I enjoy nothing more than working with customers to resolve issues or suggesting better ways to handle Telecoms or IT deployments.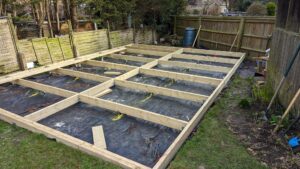 You've done the London marathon (and others) a couple of times now…any plans this year?
I'm actually building a home office/gym studio in my garden which is taking up all of my weekends at the moment so any marathon plans are on hold until that's completed. As you can see it's definitely work in progress! I do however have a long term goal of running the NYC marathon at some stage.
What's the most exciting thing in your diary right now?
It's certainly not Oxford United (let's hope for an uneventful end to the season)!
We have a family summer holiday booked to Greece in the summer to celebrate my fathers 70th birthday. Other than that, a quiet life is all good with me.
What do you love about GHM/what are you most proud of at GHM?
It's a little cliché but I would have to say the team. We are a family business, and nothing puts a bigger smile on my face to see everyone mucking in for the common cause.