How often do we check the email address when a colleagues name pops in our inbox? The answer, for all of us, is probably not very often. But due to a new stream of phishing tactics, not checking could open the doors to cybercriminals.
Here's what happened in the GHM office last week, to prove it really can happen to anybody.
One of our colleagues received the email below, appearing to be from our Managing Director:

With another follow up email shortly afterwards: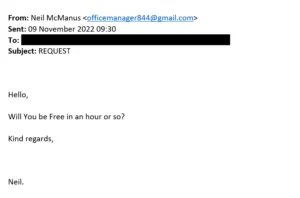 Fortunately, we are well trained in the GHM office (it's what our IT Support team specialise in) and so no action was taken but we know customers are receiving similar phishing emails, and without the correct training the outcome could be very different.
This new tactic includes no links like traditional phishing emails. It's a much more personable and friendly email impersonating a colleague. Once drawn in, the next step for the cybercriminal is to get what they want – in this case, iTunes gift cards of a high value.
The key red flag to note is that while the email appears with the correct name of a colleague, the email address is not their own and this is a key thing to check every time to spot an email that doesn't look quite right.
Here are some other examples of phishing emails that we have previously highlighted too.
Our IT Support team can assist with any aspect of cybersecurity and are always on hand to check any suspicious emails. Contact us on 01865 367111 for more advice.